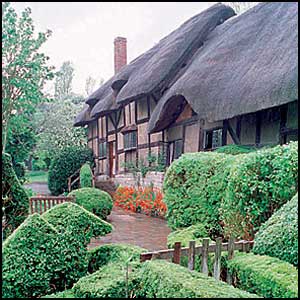 Ann Hathaways Cottage

Stratford-upon-Avon; the birthplace of Shakespeare and home of the British National Theatre.
In Henley Street, Stratford-upon-Avon, adjoining the modern Shakespeare Centre where exhibitions, conferences and lectures are held. John Shakespeare's house - which is actually two houses - is where William Shakespeare was born in 1564 and which the poet inherited.

Restored as far as possible to its original condition, its garden even contains flowers and plants named in the immortal plays. Shakespeare's Birthplace including "William Shakespeare: His Life and Background"